---
The New Year's Eve 2019
The New Year's Eve festive dinner with our own fireworks
Family tradition of the hotel Hoffmeister&Spa*****
We would like to warmly invite you to celebrate the end of 2019 at a traditional gala event in the hotel Hoffmeister&Spa***** in Lesser Town.
During this gala evening, you will not miss a musical performance by Marie Koldová with accompaniment, New Year's Eve delicatessen made by a head chef Jiří Svoboda, limitless amount of selected non-alcoholic as well as alcoholic drinks and particularly New Year's Eve toast accompanied with our own hotel fireworks.
Selection of domestic and foreign spirits will be available from 10.00 pm included.
Program
From 7.00 pm – Arrival of guests + welcome drink/prosecco
7.30 pm – Ceremonial initiation of the New Year's Eve
From 7.30 pm – Drinks offer and buffet opening
From 8.00 pm till 10.00 pm – The main course served
From 10 pm – Free selected spirits (selection of domestic and foreign spirits)
11.59 pm – Counting down the end of the year
00.00 – A midnight toast and the hotel fireworks at the hotel terrace
01.00 am – The end of the program
Life music performance by Marie Koldová with accompaniment
Price per person: 159 EUR
Please book at sales@hoffmeister.cz.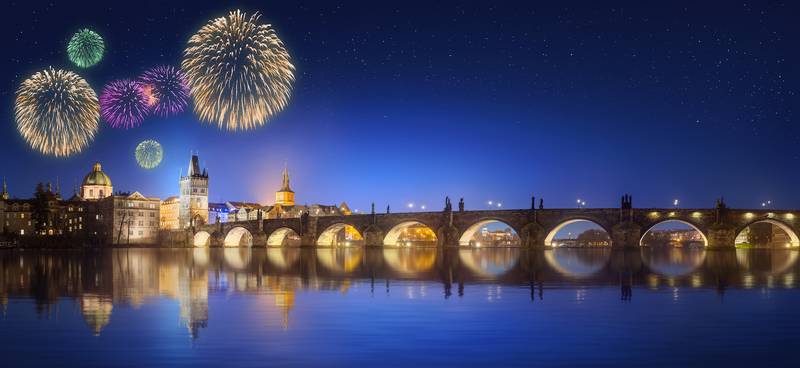 NEW YEAR'S EVE MENU
Welcome drink
Finger food
Marinated salmon, beetroot, dill
Bresaola, artichokes, rucola
Beef tartar, capers, parmesan
Grilled shrimps, ginger, coconut mousse
Cold buffet and salads
Assortment of Czech and French cheese
Dried ham, charcuterie, salami
Veal carpaccio, olives, artichokes
Oysters on ice
Tuna tartar steak, wakame seaweed, radish
Lettuce, dried tomatoes, parmesan, pumpkin
Vegetable crudité, assortment of sauces
Czech buffet
Prague ham on the bone
Smoked duck breast, plum sauce, figs
Hoffmeister snails (escargots)
Local charcuterie, head cheese, cracklings
Traditional pâté, cranberries, almonds
Potato salad
Soup
South Bohemian potato mushroom soup "Kulajda", boletus, dill
Main Course
Grilled deer sirloin, cabbage, Jerusalem artichoke, spinach foam (espuma), rosemary sauce
or
Fillet of arctic char, Beluga lentils, celery fondant, yellow radish, tarragon
Desserts
Chocolate fountain with fresh fruits and whipping cream mousse
Watermelon stuffed with fruit salad with sparkling wine and vodka
Assortment of mini desserts
Information on allergens contained in individual dishes may be obtained on request from the restaurant staff.
★★★★★
Drinks (limitless amount)
Selection of non-alcoholic drinks / open bar
(mineral water, soft drinks, home-made lemonades, juices)
Coffee, tea, hot chocolate à la carte
Wide range of local as well as foreign wines, a special offer
Sparkling wine à la carte
Kašperk or Pilsner Urquell beer, non-alcoholic beer Birell
★★★★★
Selection of domestic and foreign spirits (available from 10.00 pm)
Becherovka
Slivovitz
Irish whisky Jameson or Tullamore
Scotch whisky Ballantines
Selection of Caribbean rums
Courvoisier
Vodka Finlandia