---
New Year's Eve 2017
New Year's Eve gala dinner with our own fireworks
Family tradition of the Hoffmeister&Spa***** hotel
We would like to warmly invite you to celebrate the end of 2017 at the traditional gala night event at the Hoffmeister&Spa***** hotel located in the Lesser Town, Prague.
During this festive night event there will be music performance by Marie Koldová with the band, New Year's Eve delicatessen made by the head chef Jiří Svoboda, unlimited amount of both alcoholic and non-alcoholic drinks and in particular New Year's toast accompanied by the hotel fireworks.
The icing on the cake of this New Year's Eve will be Ladies & Gentlemen cocktail bar where every guest can mix his/her own cocktail with the help of a barman.
We will start already at 7:00 pm.
Price per person: EUR 150
Please book at sales@hoffmeister.cz or call +420 251 017 111.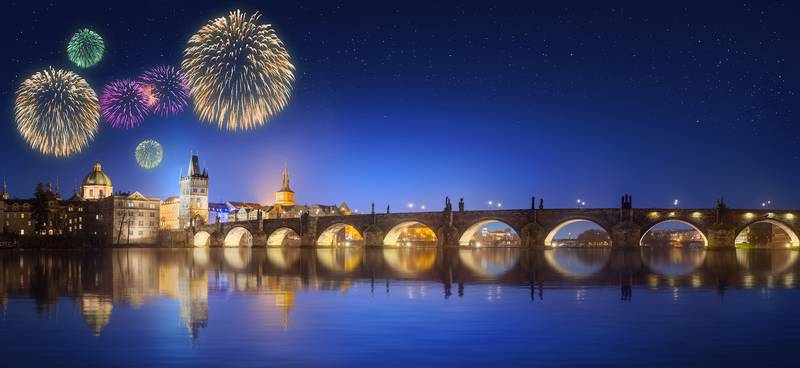 New Year´s Eve menu
Welcome drink
Finger food
Goose foie gras terrine with forest fruit
Shrimp ceviche with avocado and chilli
Octopus with caviar and ginger
Cold buffet and salads
Prague ham with horseradish
Czech and French cheese variations with grapes and walnuts
Marinated salmon with dill and capers
Burgundy snails
Grilled shrimps with ginger and chilli
Dried beef carpaccio with olives and artichokes
Oyster on ice with lime
Lettuce with dried tomatoes and Parmesan shavings
Couscous salad with seafood and grilled vegetables
Vegetable crudités with variations of dressings
Soup
Lentil soup with bacon croutons
Main course
Grilled rib-eye steak with truffle potato, bean pods and mushroom ragout
or
Sea-wolf fillet with beluga, St. Jacob´s scallops, asparagus and lime sauce
Desserts
Chocolate fountain with fresh fruit and creamy mousse
Melon stuffed with fruit salad with sparkling wine and vodka
Selection of mini desserts
Information on allergens contained in individual dishes may be obtained on request from the restaurant staff.
★★★★★
Non-alcoholic drinks
Sparkling / still mineral water
3 kinds of juices
Soft drinks, wide selection
Warm drinks to order
Unlimited consumption
★★★★★
Alcoholic drinks
Pilsner Urquell draught beer
Wide range of Czech, Moravian, Italian and Chilean wines
Offer of sparkling wines (Czech, Italian)
Unlimited consumption
★★★★★
Ladies & Gentlemen coctail bar
Mojito
Cuba Libre
Sex on the Beach
Margarita
Cosmopolitan
Caipirinha
Aperol Spritz
Kir Royale
Screwdriver
Unlimited consumption
Evening program
7:30 pm – Opening ceremony of a New Year's Eve dinner
9:00 pm – 10:30 pm – Main Course
11:59 pm – Countdown of the end of the year
00:00 am – midnight toast and hotel fireworks on the hotel terrace
01:30 am – End of program
Live music by Marie Koldová and band
Price per person: EUR 150